Club 5
Welcome to the social and cultural hub of DLF Phase5 in Gurgaon – Eat, Play, Stay, Socialize and do a lot more at DLF Club5.
Club 5 offers multiple avenues of recreation. Our multicuisine restaurants serve amazing dishes with flavorful twist. The sports complex at Club 5 is perfect for enjoying fun activities and our plush rooms help you relax in pure serene and peaceful aura.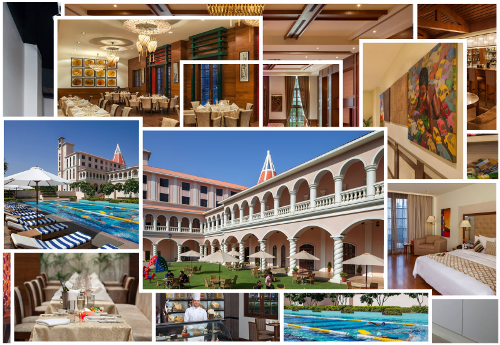 Delux and Premium Rooms
Relax in a laid back opulent room designed to serve superior comfort in the lap of luxury. These explicitly designed rooms are fit for King and queen.
View Details
Grand Ballroom & Tulip Hall
Host an evening no less than a grandiose. Allure your guest with a completely lavish, spacious and ritzy aura of the regal banquet hall
View Details
Regal Conference Room
Upscale your professional meetings with a touch of extra ornate ambiance. A confluence of professionalism and effusive approach.
View Details
Dine and Wine
The optimal restaurant club
Leisure Your way
Pursuits for ultimate recreation
Join us and say yes to a life full of peace, fun, opulent dining and a complete rejuenuvation
Testimonials
My experience to date for DLF Club-5 , is a place for anyone who is looking forward to the sumptuous food prepared in the most hygeinic way, entertainment, events, sports facilities, Sunday brunches over live music, the festival celebrations, chef style classes ,ladies night and the list goes on.Jyoti Asija
I'm Priti Dalal, a resident of Westend heights, DLF Phase5. I have been a member of the esteemed club 5 for the last three years now. Besides the innumerable activities like chef classes, book launches, wellness sessions, interactive talks which are their regular feature, I have attended here, Club 5 has given me something priceless.Priti Dalal
Mail Us
reservations-cc5@dlf.in
banquetssales-cc5@dlf.in
Have a query? We're right here to resolve. Drop us a mail and let's get in touch
Locate Us
DLF Club5 Opp. Trinity Tower
Gurgaon – 122002, Haryana
Let's catch up over a coffee and discuss any business query you have.
Need Help
Room Reservation: 014 4949101
For Membership: 97174 80554
We're listening to your feedback and questions. Get in touch.